Doulaeffekten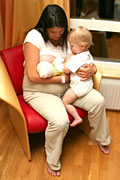 Den aller viktigste grunnen til å ha med en doula under fødsel ser vi på som å gi seg selv det beste mulige utgangspunkt for å få en fin fødselsopplevelse.
Forskning viser at kvinner som har kontinuerlig omsorg gjennom hele fødselsforløpet har kortere og mindre kompliserte fødsler, de bruker mindre smertestillende midler og rapporterer om en mer positiv opplevelse av fødselen.
I boken Mothering the Mother (*1) finner vi blant annet denne statistikken blant kvinner som har hatt med doula under fødsel:
50% reduksjon i keisersnitt
60% reduksjon i ønske om epidural
40% reduksjon i bruk av drypp/riestimulerende midler
30% reduksjon i bruk av smertestillende
40% reduksjon i bruk av tang/vakuum under forløsning
I en Cochraneanalyse av tilgjengelig god forskning på fordeler ved å ha kontinuerlig støtte under fødsel kan vi lese:
Supportive care during labour may involve emotional support, comfort measures, information and advocacy. These may enhance normal labour processes as well as women's feelings of control and competence, and thus reduce the need for obstetric intervention. The review of studies included 16 trials, from 11 countries, involving over 13,000 women in a wide range of settings and circumstances. Women who received continuous labour support were more likely to give birth 'spontaneously', i.e. give birth with neither caesarean nor vacuum nor forceps. In addition, women were less likely to use pain medications, were more likely to be satisfied, and had slightly shorter labours. In general, labour support appeared to be more effective when it was provided by women who were not part of the hospital staff. It also appeared to be more effective when commenced early in labour. No adverse effects were identified. (*2)
Kilder
*1: Klaus, M.H., Kennell, J.H.,  Klaus, J.H. (1993). "Mothering the Mother: How a Doula Can HelpYou Have a Shorter Easier and Healthier Birth".
*2 Hodnett, E.D.,Gates S., Hofmeyr G.J., Sakala C.(2007) Continuous support for women during childbirth (Cochrane Review) fra Cochrane Library.